While I've been to Boston a number of times, I'd never gone on the Sam Adams brewery tour. It's free, with a suggested $2 donation which goes to charity. Here's what I learned on the tour! And by the way, this is
part of my Boston series, and I'll be doing a post on Harpoon Brewery as well - another Boston tour stop.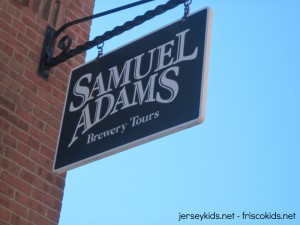 I read about how popular this tour could be, and how in summer and on weekends it could fill up really quickly. Since I had another agenda for the day, I got there in time for the first tour of the day - a weekday at 10 a.m. By 10:30, I was swilling beer. And hadn't had breakfast. You should eat breakfast first.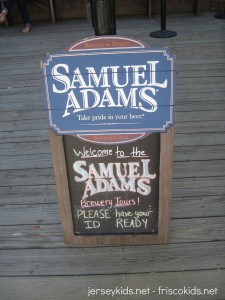 The brewery is in the Jamaica Plain area - almost at the end of the orange line T stop. From the T stop it's a 5 minute walk to the brewery. If you pick up a tourist brochure about the brewery tour at any tourist spot, you'll find the directions. I happened to go alone purely in the name of research (yes, drinking alone at 10:30 a.m. - that's sad, huh?). My husband was at a conference and my kids were at camp. Was I supposed to sit in my hotel? I'm a travel writer! For the record, kids ARE allowed on the tour, though they check ID (see sign above) and stamp your hand if you're old enough. More on that later.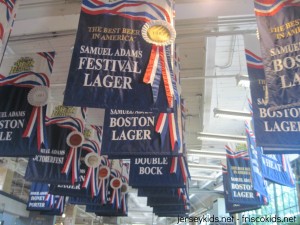 If you look above, you'll see the flags waving for their winning beers. The Boston Brewing Company has made more than 100 different beers. Their most popular is the Boston Lager - about 50% of the beer they sell. We went into a room to learn about the beer making process. Since I'm not as familiar with the ins and outs of beer making, let's just say I wrote down a whole bunch of notes and they're totally incomplete. So to highlight a few things you'll learn on the tour, our guide Brian (who was HILARIOUS by the way), told us about malt, and how they use different types. They passed some cups of malt around for us to taste. The one below is NOT chocolate malt, which is used to make black porter, cream ale, dark stouts and bocks. Like coffee beans, they roast the malt until it's almost, but not burned. The malts tasted like GrapeNuts, and tasted different than each other. That's why they use different malts for different beers.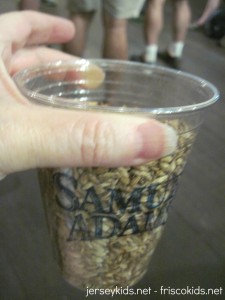 We learned about hops, below. Hops makes beer bitter, balancing the sweetness, and adding to the aroma. It's a natural preservative. This type of hops smelled like pine cones. Hops grown in different countries/areas smells differently, which really isn't shocking. We got to take one of the little hops bulbs and smash it in our hands to smell it when it's open/smashed, and we got to dump it on the floor. Hooray! Littering is allowed!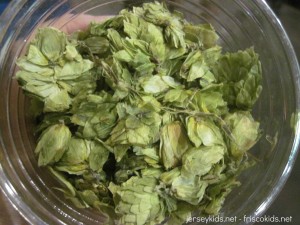 After this, we moved to their brewing room. The picture below is basically the entire thing. There are some more machines on the right, but not too many. You may guess that this is not their main brewery, and you'd be correct. This is like the test kitchen, and the birthing place of every one of their beers except the original Boston Lager, which was in the beermaker's kitchen (and it was his family recipe). Their main breweries are in Ohio and Pennsylvania, where they use a reverse osmosis process to make the water more like the Boston water.
Brian told us about the beer making process, and how ales and lagers differ in the temperature the yeast likes (60 for ale, 50 for lager), how lager ferments longer and with yeast at the bottom, versus ale with the yeast fermenting at the top. We learned how beer has 2,000 flavor compounds, and how the spent grain from the beer making is fed to cows and is high in protein. We learned how the hops are added three times in the process, the last for the aroma. We learned the yeast can be reused up to seven times and the beer is called "green beer" before it ferments. It takes about 5-6 weeks from start to finish.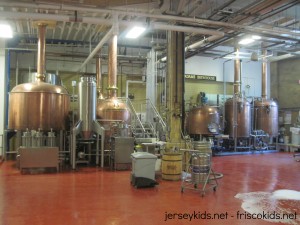 After checking out the brewery, we moved on to the tasting room. It's a decent size room and our 10:00 group did not fill it. For the kids in the room (there was only one in ours - and she was a teen) - they're supposed to get root beer, but that didn't happen (maybe they didn't give it to her because she looked old enough). In any case, she wasn't upset. Those 21+ grabbed seven ounce tasting glasses on the way in, and Brian (and Ryan in the background behind the bar) explained each of the three beers we tasted. They walked us through what they should look like and what they're made with, along with alcohol content.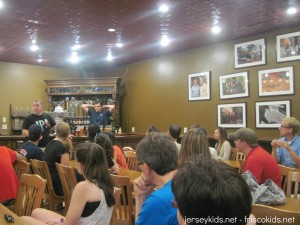 They passed pitchers down the tables. Lucky me - I was at the end so I got all the extras. No breakfast, remember? They made jokes throughout the tour, and at one point said, "okay, introduce yourself and just mention how beer has changed your life." It was funny at the time, and fortunately we didn't have to suffer through the answers. After our lager, Brian said, "Is this anyone's first lager...of the day?"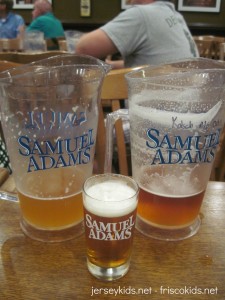 After three beers, with ample opportunity for me to indulge in even more, Brian told us about the special Sam Adams lager glass (not pictured), which you can get for free if you go to Doyle's Tavern not far from there, and order a Sam Adams. They even had a Party Trolley available to take anyone there (how convenient!). I had enough beer in my system, and at that point wasn't hungry, so I made my way through the gift shop and back to the T. The gift shop had plentiful opportunities to relieve you of your cash - items there were not cheap! They have a little mailbox you can use, with postcards provided, to mail your friends. They'll put postage on it for you too. Not sure if my postcards made it - I haven't heard from anyone I sent them to. Maybe the post office couldn't read my drunken writing.
In addition to Doyle's, there are apparently a few other small restaurants in the immediate area, including the complex holding the brewery.
Where: 30 Germania Street, Boston. Take the orange line to Stony Brook. There was parking there and some neighborhood spots as well, but the brewery recommends public transport. It's not like they have a huge lot.
When: Monday through Saturday from 10-3 or 5:30, depending on the day.
How long:
Tours run about an hour - and leave every 45 minutes. According to their website, on Saturdays they often fill by noon. Private tours and group tours are available -
see the website
for details.
Cost: free, but they request a $2 donation that goes to a local charities like a children's fund and to the Granary Burial Ground...where Sam Adams is buried.