I wanted to pass along some offers that came through my affiliate network that you might be interested in.
My iPod is full of podcasts, not much music! I spend my time walking to/from school listening to books and podcasts to catch up on reading (and writers' conference panels). So I was interested in this
Audible deal,
where you can get a month free and a free audio book. If you like it and stay a member, you pay a monthly fee.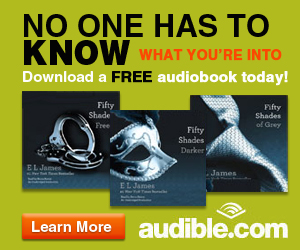 If you're into daily deals, Zulily has very cute baby and kid stuff - click on the picture below to check it out. They have their annual "disguise" sale with things up to 65% off right now. You can use code ZUGA912 to save $5 off of $50 purchase.
Nielsen Consumer Panel - the Neilsen scan sounds familiar, right? This is the same company that tracks TV watching. They have a home scan program where if you qualify, they'll send you a scanner for stuff you buy for your home so they can track purchasing trends nation-wide, and you can participate in surveys. By doing so, you get points you can trade in for electronics, toys, household items, jewelry, etc. I've not done it, so I can't vouch for what's involved, but if you sign up, let me know how it goes. To join, click the photo below.