We get asked all the time for the most economical ways to see San Francisco. One way is the San Francisco CityPASS, which we recently got review purposes, over spring break earlier this year. We already planned on seeing many of the places covered by the CityPASS, so it seemed like a good idea - was it? We discuss that at the end. Here's what we saw.
Exploratorium
As you know, the Exploratorium is a world famous hands-on kids' science museum for a good reason – it's a great place. It's huge. You won't make it through in one visit, but you can still spend a few hours there. Since we were there a few years ago, they've added on more outside exhibits, some indoor ones and rebuilt the Tactile Dome (one of my favorite things from it's old location at the Palace of Fine Arts).
the wall of the tinkering lab. Copyright Deborah Abrams Kaplan
Some highlights:
-the toothpick "Rolling through the Bay" sculpture, which took artist Scott Rollins 41 years to make, with more than 111,000 toothpicks. We missed it, but they will roll ping pong balls through its route at various times – there are 15 different entry points!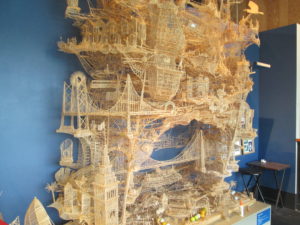 Exploratorium toothpick kinetic sculpture. Copyright Deborah Abrams Kaplan
-the tinkerer's clock. Every hour it comes alive and the numbers fold out to make one giant clock. Check your watch and go see it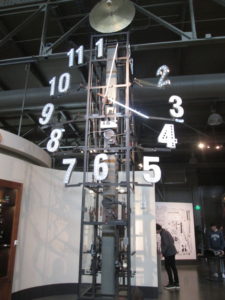 The tinkerer's clock at the Exploratorium. Copyright Deborah Abrams Kaplan
-the lockers near the entrance. They're 50 cents – store your stuff so you don't have to carry it around. But what's interesting is that the lockers are musical. Touch the various handles and you'll make music.
-the famous toilet water fountain. You can drink out of it.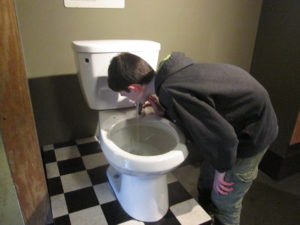 The toilet water fountain at the Exploratorium. Copyright Deborah Abrams Kaplan
-the distorted room - outside. Learn about perception and optical illusions
The Tactile Dome is an extra fee, but highly worthwhile. It's a dome you crawl/walk through – completely in the dark (except at one point, there's a little light). You go through by feeling where you are. It's disorienting, but if you get freaked out, they'll get you out very quickly. You climb up, you slide down, you crawl, you go over rope ladders. I don't want to give away too much, but it's a lot of fun. They have various prices/times available, and we did the one hour/$15 entry. With that, we were able to go through three times (your mileage may vary and it depends on how fast everyone in the group is). It is not handicap accessible – mobility is a big part of the experience.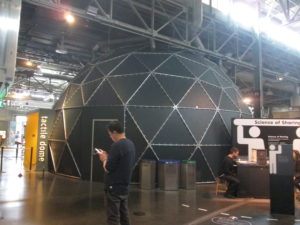 The tactile dome at the Exploratorium. Copyright Deborah Abrams Kaplan
Instead of the Exploratorium, you can use this pass for SFMOMA, the museum of modern art. It's recently renovated, and we unfortunately didn't have time to go – we would have done that in addition. You will get a discount at the attraction where you don't use the free pass, if you want to do both.
The California Academy of Science
This California Academy of Science at Golden Gate Park is another one that's world-class. You'll easily spend half a day here. With your pass, get in the ticketholder's line (it's confusing – there are a lot of lines out front). The museum has a planetarium, rainforest dome, aquarium, a living roof, and many exhibits on nature. It's really big (and crowded).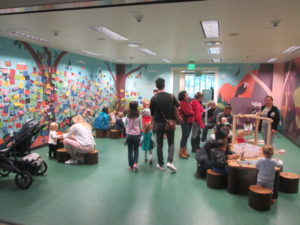 The hand-on craft area for little ones at the California Academy of Science. Copyright Deborah Abrams Kaplan
Don't miss:
-Claude the albino alligator
-the rainforest dome – check out the ant exhibit on the top floor.
-the planetarium, which has movies on things other than planets (it's included). We saw one on climate change.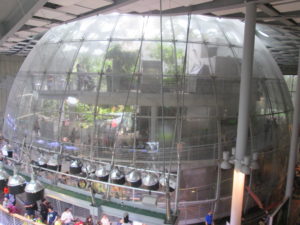 The rainforest dome at the California Academy of Science. Copyright Deborah Abrams Kaplan
Aquarium of the Bay
This aquarium at Fisherman's Wharf is a lot smaller, and takes about an hour to see. It's better for younger kids. They have a lot of hands-on activities, but check the times before you go. I probably wouldn't go unless I had a membership or CityPASS, as it's kind of expensive and you won't spend that long there. They do good work though, supporting the Bay Area habitat.
Cable Car and Muni
The CityPASS vouchers allows you unlimited cable car and MUNI rides for three consecutive days, and we took advantage of that. While we only rode the cable car once ($7/ride), we thought about using it more. And we took at least one bus/trolley ride per day on the public transit. That's a great way to see the city, and it's easy to use.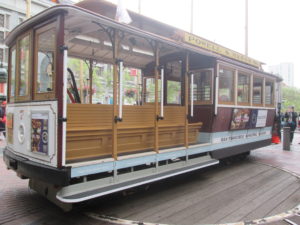 The cable car in San Francisco. Copyright Deborah Abrams Kaplan
Blue and Gold Adventure Fleet
We did not take a boat cruise, the only thing we didn't use on the CityPASS. You can take an hour cruise on the bay, or a RocketBoat ride from May-October. If we visited during that latter time period, we would have done that, but we were there in April. You can also use your voucher to upgrade for the Alcatraz trip, but some Alcatraz trips sell out in advance, so it might be difficult to plan ahead for that during high season.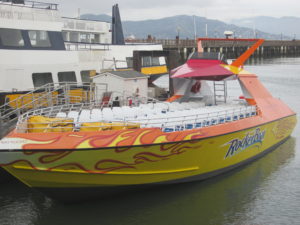 The Rocket Boat at Fisherman's Wharf. Copyright Deborah Abrams Kaplan
How CityPASS works
You can buy your CityPASS ahead of time or in the city you're visiting. The booklet contains entry to various attractions, with dates/hours/directions given as well. For some attractions, like the Exploratorium and SFMOMA, you can only use your free entrance at one, though you can get a discount at the other. You can exchange your CityPASS receipt for the booklet at any of the attractions, except the cable car. You need to get that ahead of time. The San Francisco Visitor's Center is half a block from the Powell Street line, so you can pick it up there, and there's one near the Beach Street terminal as well. If you go to the Powell Street one, know that it's down the stairs, like you're going to the MUNI underground line. We had a hard time finding it. It's below street level.
San Francisco has other "pass" type programs, including the GO San Francisco card, where you buy pass for a certain number of days to all the attractions or "build your own pass" if you know what you want to see, and you'll save on that.
Before deciding which card to get or whether to get one at all, think about what you want to see. Also consider how much you really can do in a day. One friend who got a similar card for NYC figured they'd see one big attraction per day, and they bought a four attraction card, which worked for them.
Even though we got ours for review purposes, with CityPASS, as an adult, here's what I would have paid:
MUNI: $13.75 (one cable car ride – 3 MUNI rides, though we may have used MUNI more and saved more if friends hadn't driven us around one day and we took a few Uber rides in the rain)
Exploratorium $30
Aquarium of the Bay $27
California Academy of Sciences $30
Boat ride $33
The CityPASS price for an adult is $89. So If we only would have gone to the Exploratorium, Academy of Science and paid for MUNI, I would have spent $73.75 (since I may not have gone to the aquarium). But with the aquarium and boat ride, costs would be more than $133 plus extra MUNI rides. It really depends what you plan to see.
Just announced: announced after we posted, CityPASS now offers the C3 pass as well. For $69/adult and $54/child you can choose three attractions, including those mentioned already (minus MUNI transportation, and you can do both the Exploratorium and SFMOMA), or a bike rental, visits to the deYoung Museum and Walt Disney Family Museum.