My son is a huge
BattleBots
fan. But the filming was going to be in Long Beach, California and we live in New Jersey. We weren't making a special trip to watch the filming. Lucky us – after making plans to spend part of spring break in Los Angeles, we got an email announcing that BattleBots filming would start on our last day there.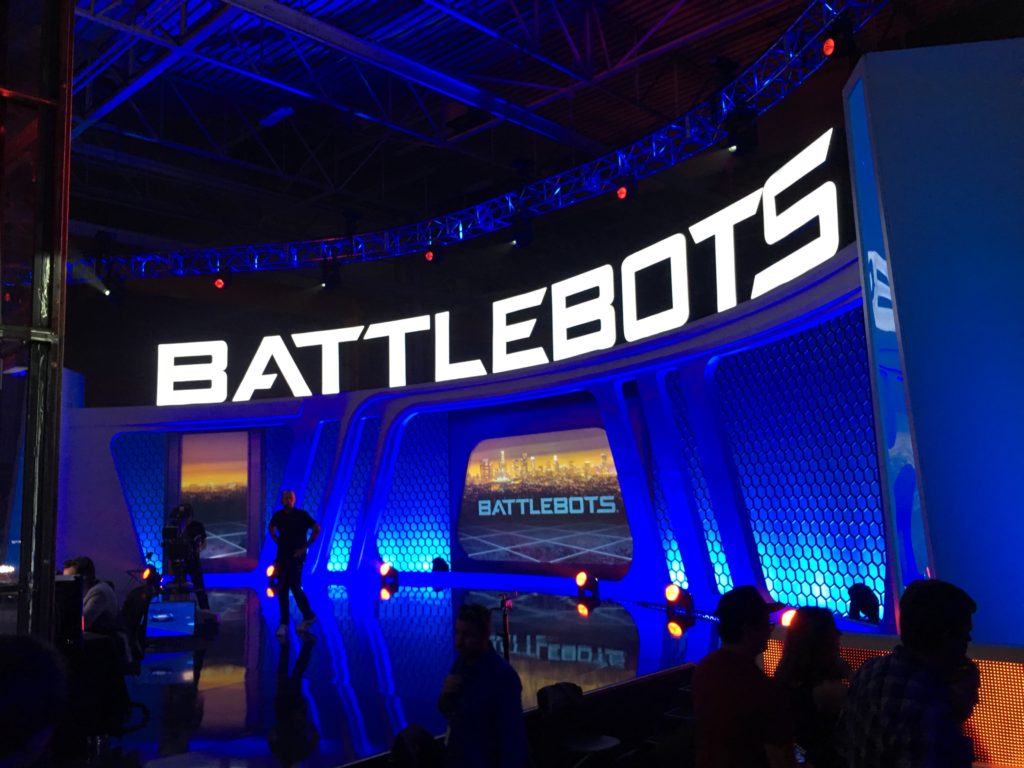 Battlebots set - copyright Caroline Jusko
Here's what it's like going to a BattleBots filming
(with some logistics at the bottom for those who may go in the future – those were kind of hard for us to find before filming).
After waiting an hour in line just to sign our waiver and get into the gate, the staff realized that filming was supposed to start. Of course we were at the front of the line having just signed our waiver and getting tickets scanned, and now everyone behind us was rushing to get in (with no waivers). No worries. There were enough bleacher seats for everyone and the seats were all good.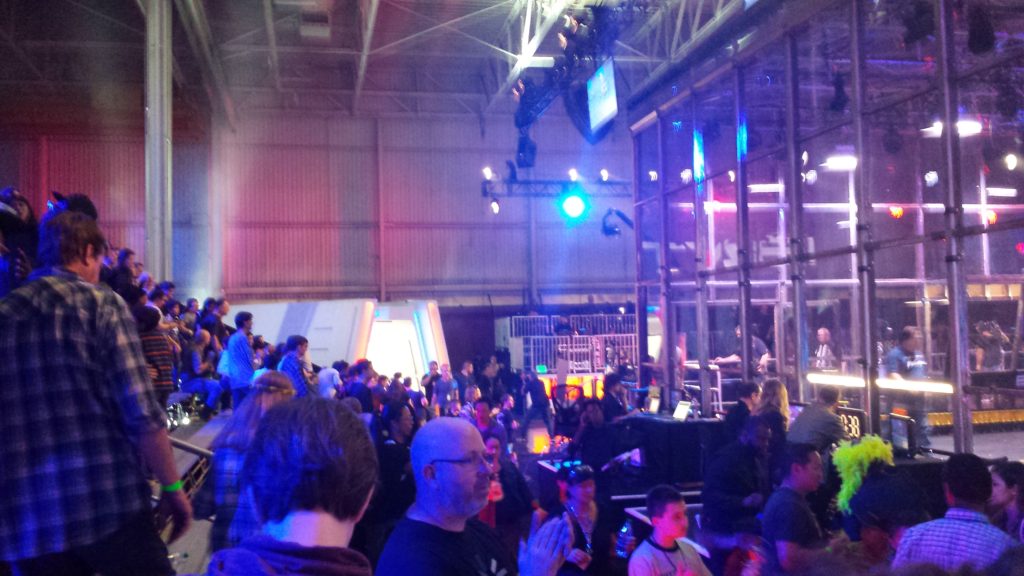 Sitting in the BattleBots bleachers. You can see the white entrance tunnel in the background. Copyright Deborah Abrams Kaplan
The filming is in an enormous warehouse – formerly a Boeing site. Seats are not assigned, and were on two sides of the arena, which is glassed in to avoid flying robot parts injuring anyone. The set looks amazing, and it was funny seeing the fancy tunnel the teams enter through, kind of stuck on the side with a backdrop. The announcers did some intros and we got to watch numerous takes by announcer Faruq Tauheed saying the stupid lines. They really are stupid, but kind of funny. And by the third or fourth time, we could say them too.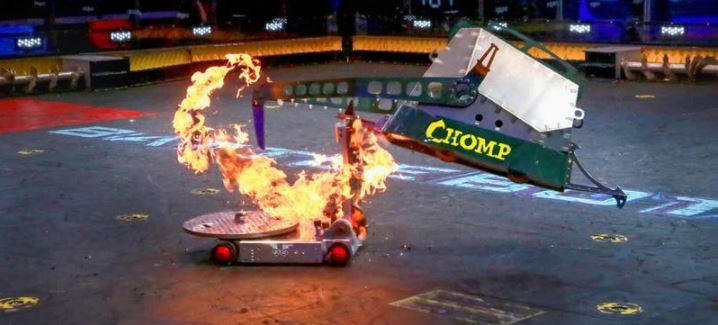 Chomp - a publicity photo.
Though we couldn't hear the commentary by Chris Rose and Kenny Florian outside the arena, we were sitting behind them, so once in a while when the shot was a little wider, you can see us on TV. But don't blink or you'll miss us.
Each filming session is 3-4 hours, and includes six battles with two teams (three minutes each). We saw five traditional battles and one rumble (with three teams and fancier robots and costumes). Unfortunately, I'm not allowed to tell you which robots battled or the results, but some were of course, better than others. At least one battle was spectacular and the crowd went wild when the names were announced. I can't wait to watch that one again on TV when it airs.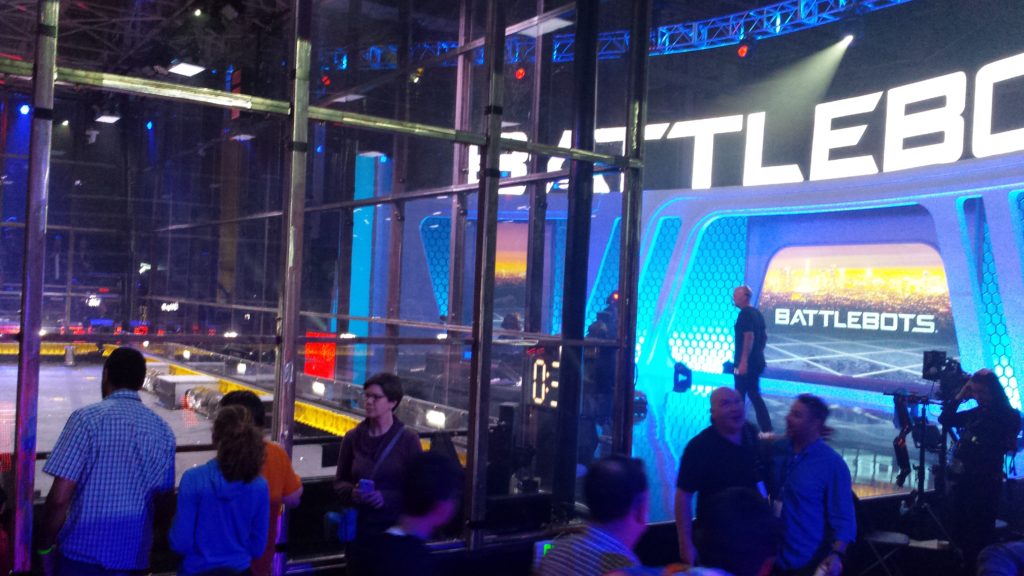 The corner of the arena and the background set. See if you can spot my sister. Copyright Deborah Abrams Kaplan
As part of the filming, we had to clap and scream a lot – sometimes over several takes. It's interesting to see what happens behind the scenes, and to see so many people working on the set. The makeup artists were constantly touching up the hosts, and they have at least two people who are in charge of getting the audience pumped up and making noise.
See some
BattleBots videos
here and the trailer below.
We did take some pictures at the end – everyone else was doing it and the staff didn't say anything, so I think it was fair game. If we were in the L.A. area longer, we'd have signed up for another filming. It was a lot of fun, even for those in our group who didn't know what BattleBots is.
The show airs May 11 on Discovery channel and May 16 on the Science channel. Not that you particularly care, but we were in the audience for the first episode. I'd describe where, but truly you won't be able to pick us out.
If you go:
Some of the details. While being a studio audience member is usually free, they charged $20 per ticket for the event. They open the parking lot 1.5 hours before the filming starts, and they open the warehouse an hour before. Lesson learned – the line was really long when we arrived – we waited an hour – next time we'd show up earlier, like when the parking lot opens. Just to get inside faster.
They had a few food trucks outside, and you can bring your own water inside (they didn't sell water or food inside and there was no water fountain that we could see. The restroom was a porta-potty outside the warehouse). They have a sign making station with posters and markers outside. We didn't have time to make a sign, but there's a better chance they'll film you if you have one. You can also bring your own.
There was a mix of ages – lots of kids. And good clean fun. They sold t-shirts and a few other pieces of merchandise as well. We were able to get up during the filming (not en masse, but they didn't care if we left for the bathroom).