This spring we went to the
Battlebots filming
for the second time. If you're a fan of the show, you might notice that this year is a little different than last year. The big difference is that it's 2 hours instead of 1. That means more battles. And that was a pleasant surprise for us, as we saw the line-up for our taping. There were a lot more battles! Here's what happened at the
Battlebots filming
experience last year.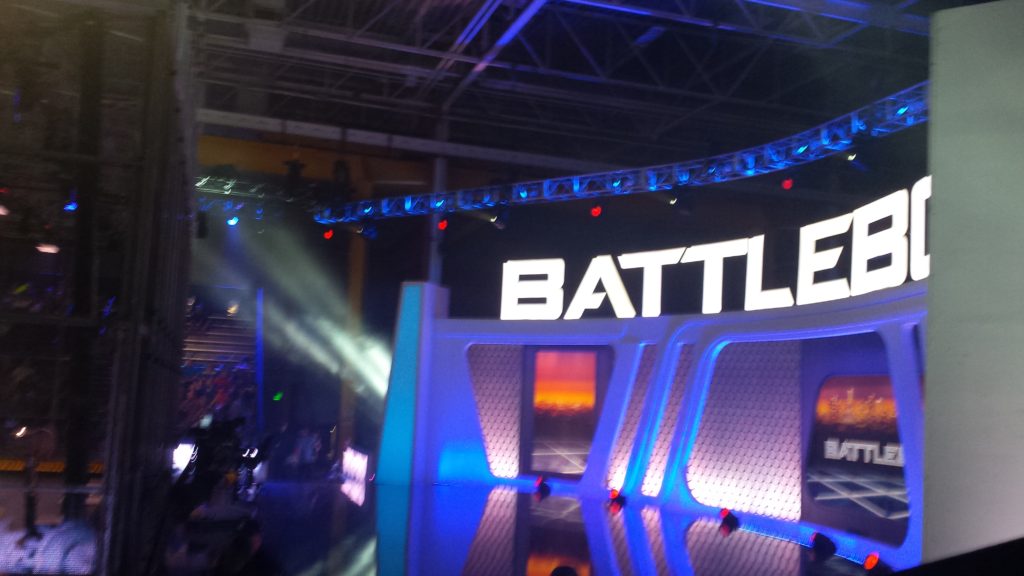 This year was better organized, which made for a more enjoyable experience. Again it was filmed in Long Beach, south of Los Angeles. You wouldn't know that from the show intro, which flies over the Staples Center in Los Angeles. We had a laugh at that, because filming is in warehouse next to the Long Beach airport during the day for the first filming an in the evening for the second - but it's still pretty light out then. There are 16 episodes this season, with each 4 hour block of filming tied to one episode.
Battlebots Filming Logistics
They'll give you a time that the parking lot opens. Truly the lot will not open before that. I know because we had no traffic getting to Long Beach and we sat in the right lane of the public street, waiting to turn into the lot. Sat there for 20 minutes. Finally they opened the lot and we could get in. You line up for them to check your tickets, and then line up again to get into the warehouse. Last year it took forever to get through the ticket line, partly because we had to sign release forms (those are done online this year when getting your tickets). This year the ticket line was fast. They have a poster-making area with the
Battlebots fighting line-up
so you can make a poster (or bring one of your own from home).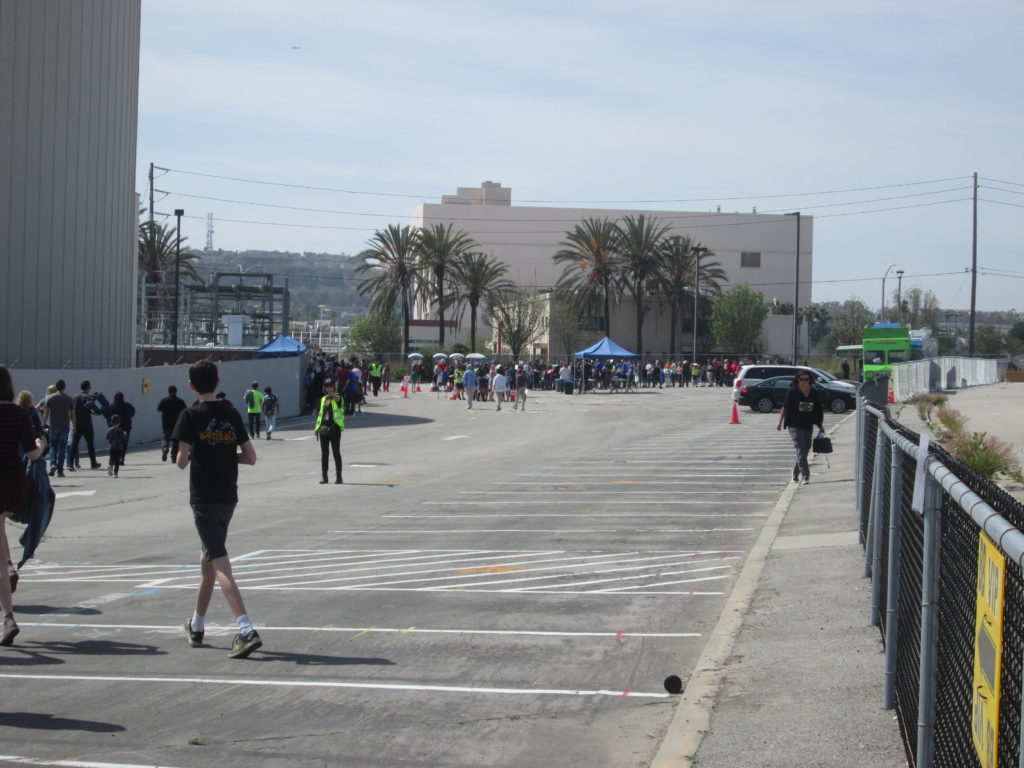 When lining up for the warehouse, they have separate lines for VIP and the rest of us. I don't know if there was special VIP seating or they just got to choose first. You'll see fine wherever you sit, and also there are big TV monitors where you can also follow the action.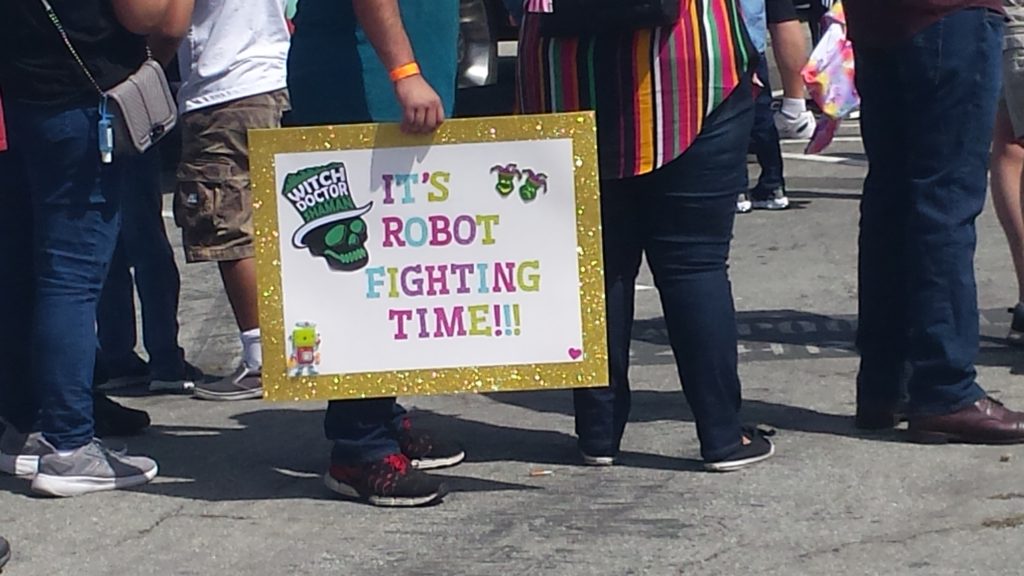 They have food trucks outside. You can't bring food inside, or drinks other than water. That said, they didn't check bags and someone in my group walked in holding an open Coke can, and they didn't stop her. She was able to take it to her bleacher seat. Note that there are no bathrooms inside the warehouse – they have porta potties outside. You can come and go during filming, though they prefer you stay seated.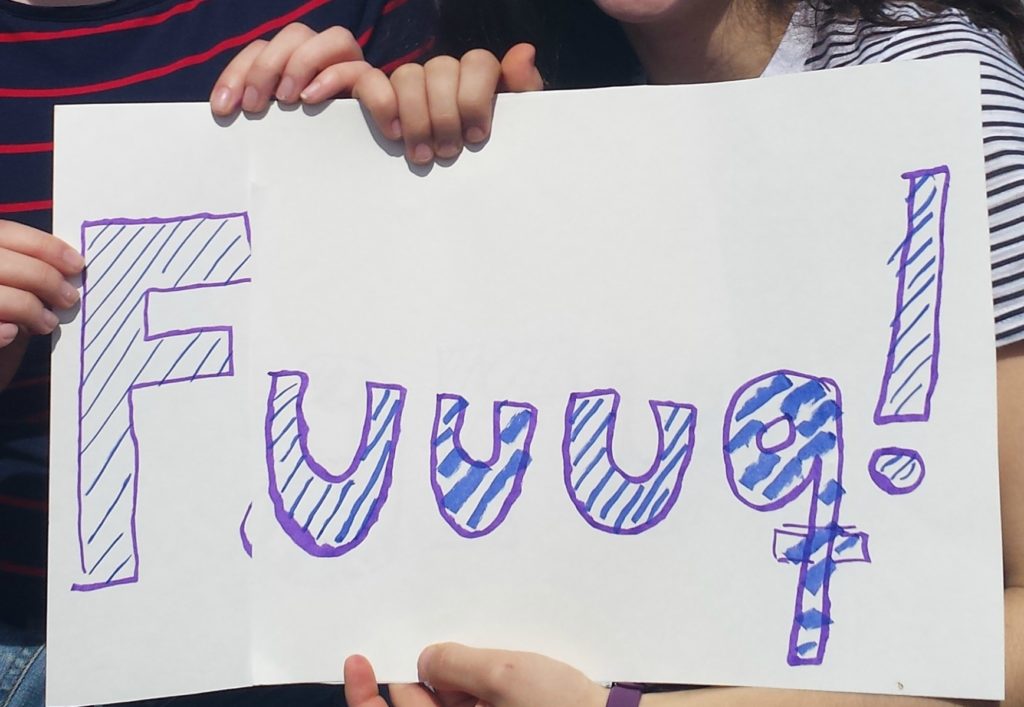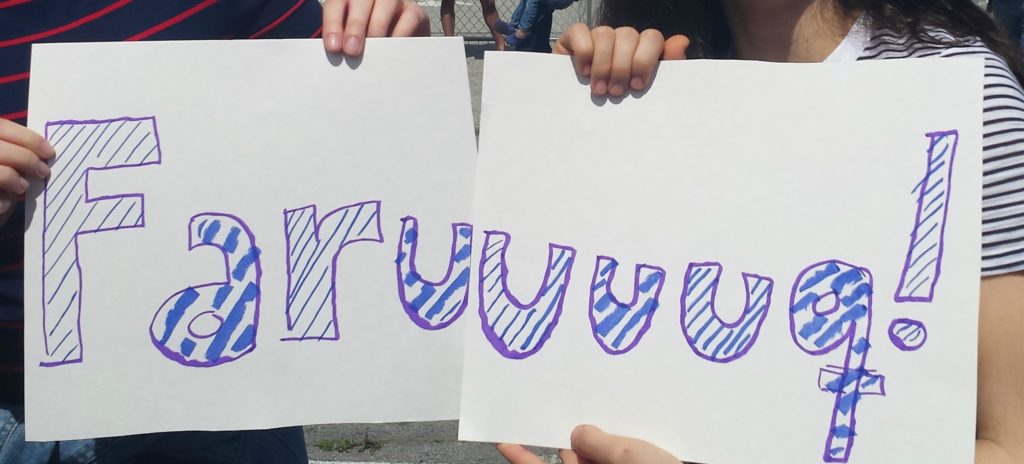 Battlebots Merchandise
This year they had a much larger merchandise area with a good selection of shirts (bot specific) and other items. You could even order them from your seat – they handed out an order sheet. You could put your credit card number on there and they'd bring it to you.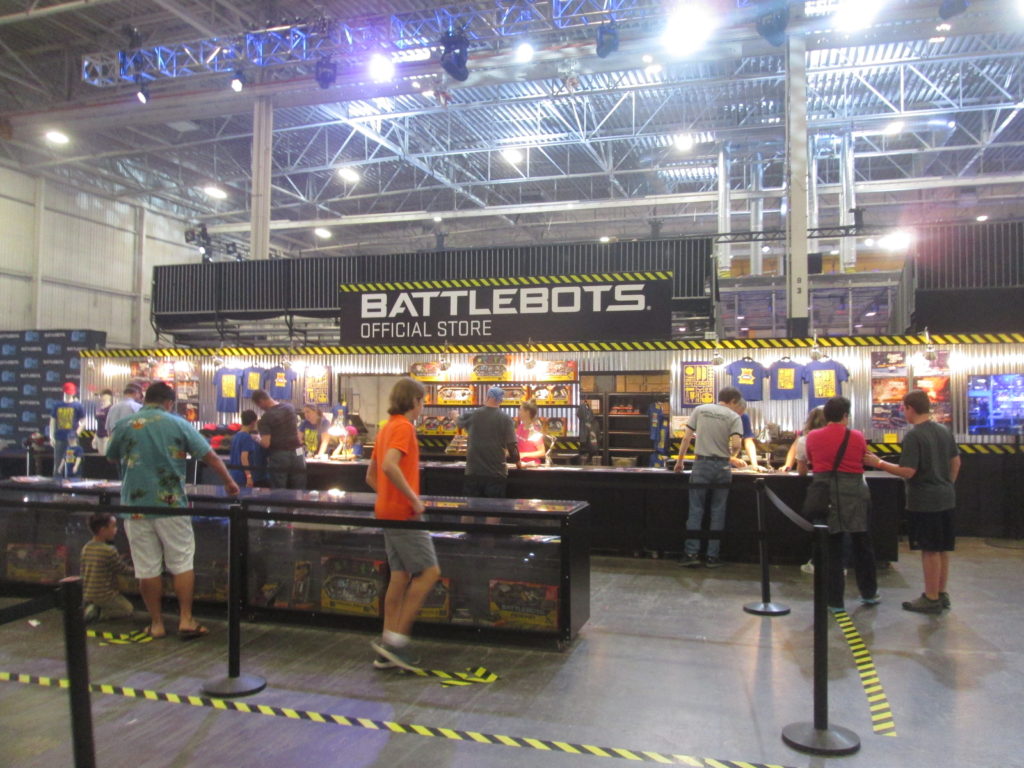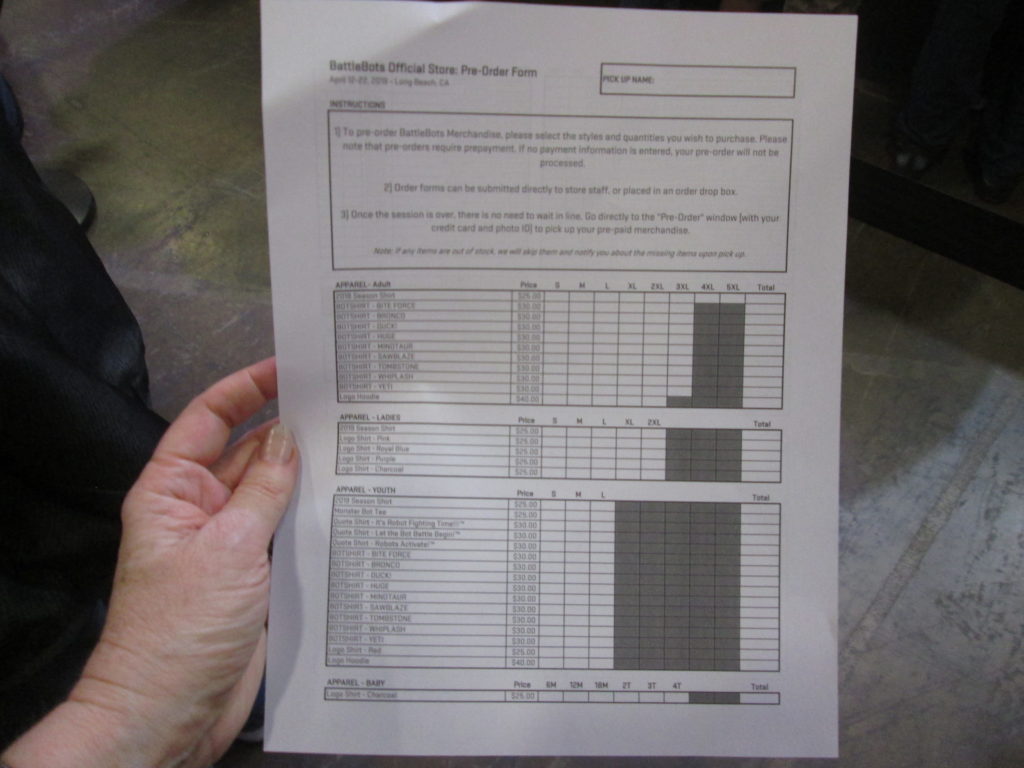 They also had some bots on display – where you could take pictures – and some Giant Nuts for photo ops as well.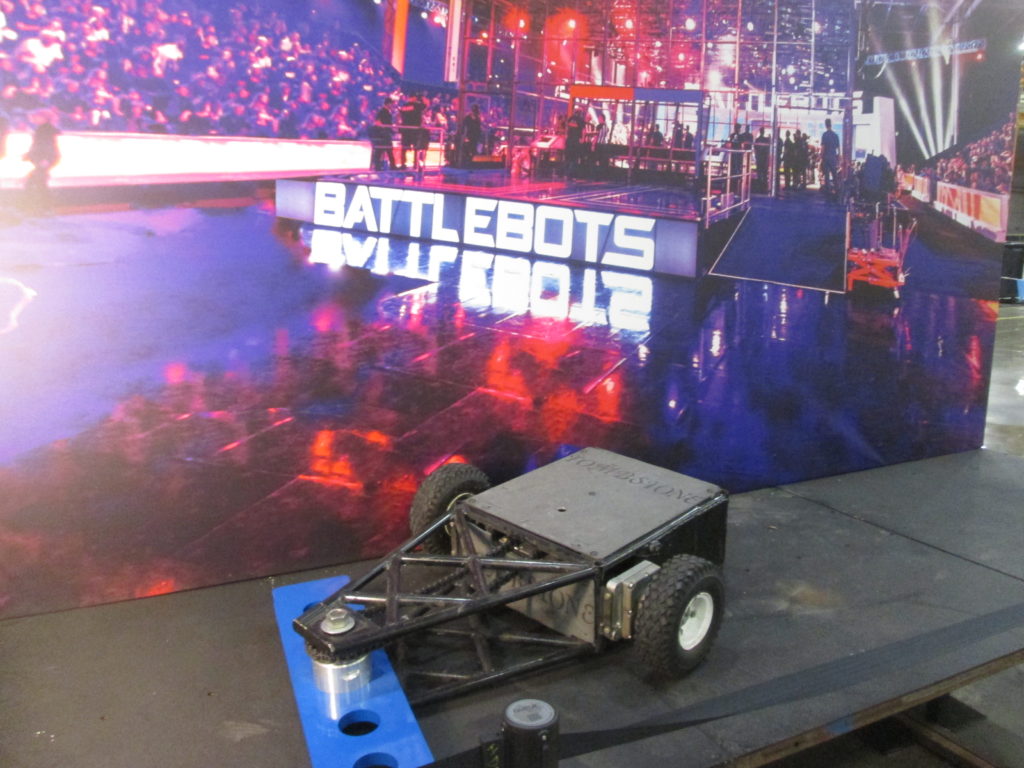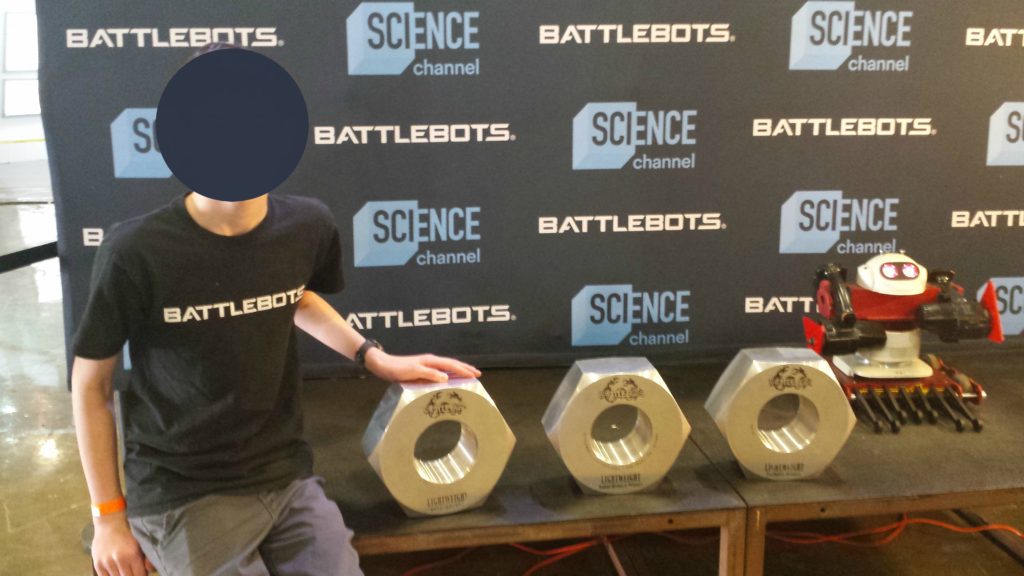 Battlebots Meet and Greet
After the filming (which took a little less than 4 hours), some of the teams posed for pictures by the giant nuts. Also, some had their bots outside and you could meet and talk to them and see the bots up close.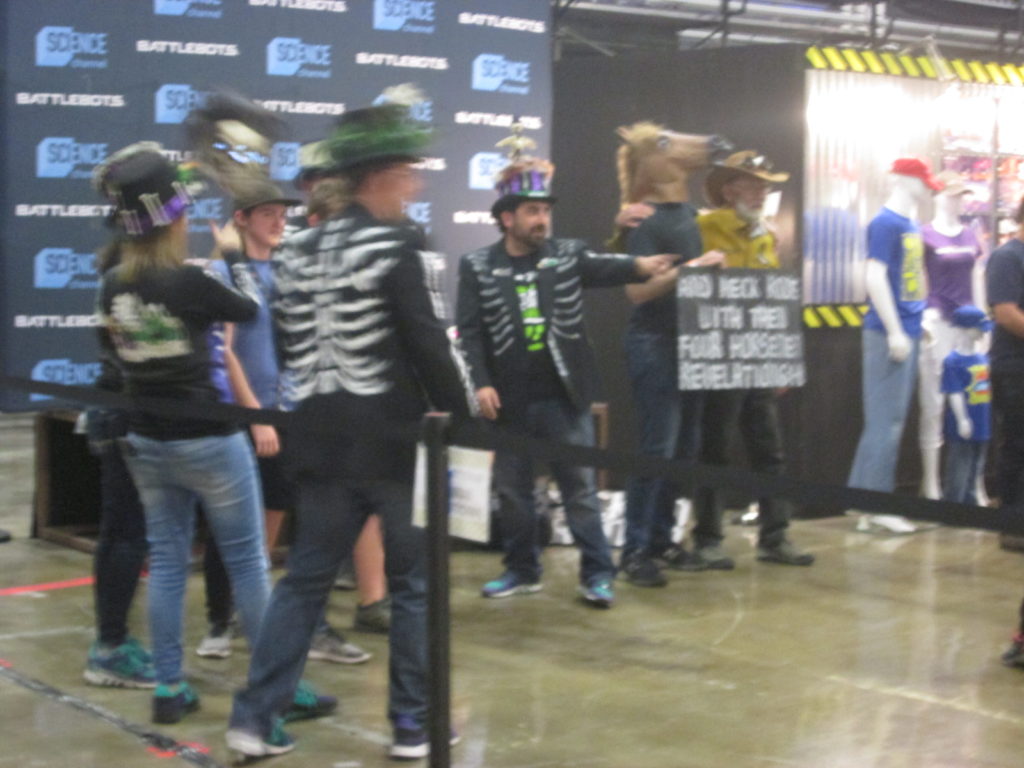 Fun fact – watch what Chris, Kenny and Jenny wear each week. It's the same outfit. Sometimes the producers swap out matches between shows (I haven't paid attention the judges' clothes, nor Faruq's – he's always in a dark suit, so probably the same too).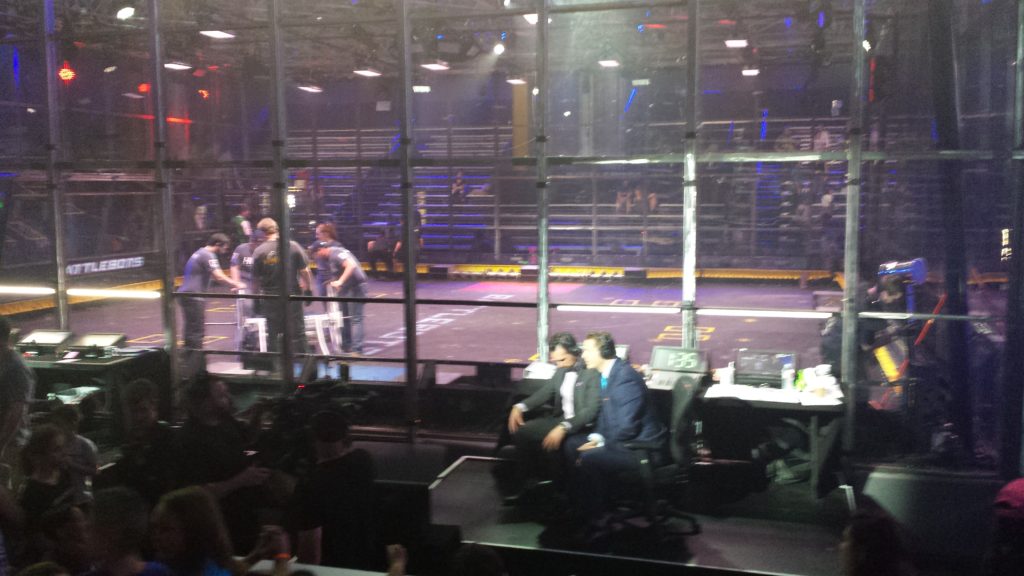 Battlebots tickets
Sign up for the
Battlebots mailing list
to be alerted when/if tickets are available. The site currently mentions that if Battlebots is renewed for 2020, filming will be in March or April, either in Southern or Northern California, or Las Vegas. Ticket sales would likely begin in January or February. We paid around $33 for our tickets. You can get a discount for specific filmings, and for the tunnel seats (closest to the tunnel). Those seats don't have as good a view into the arena.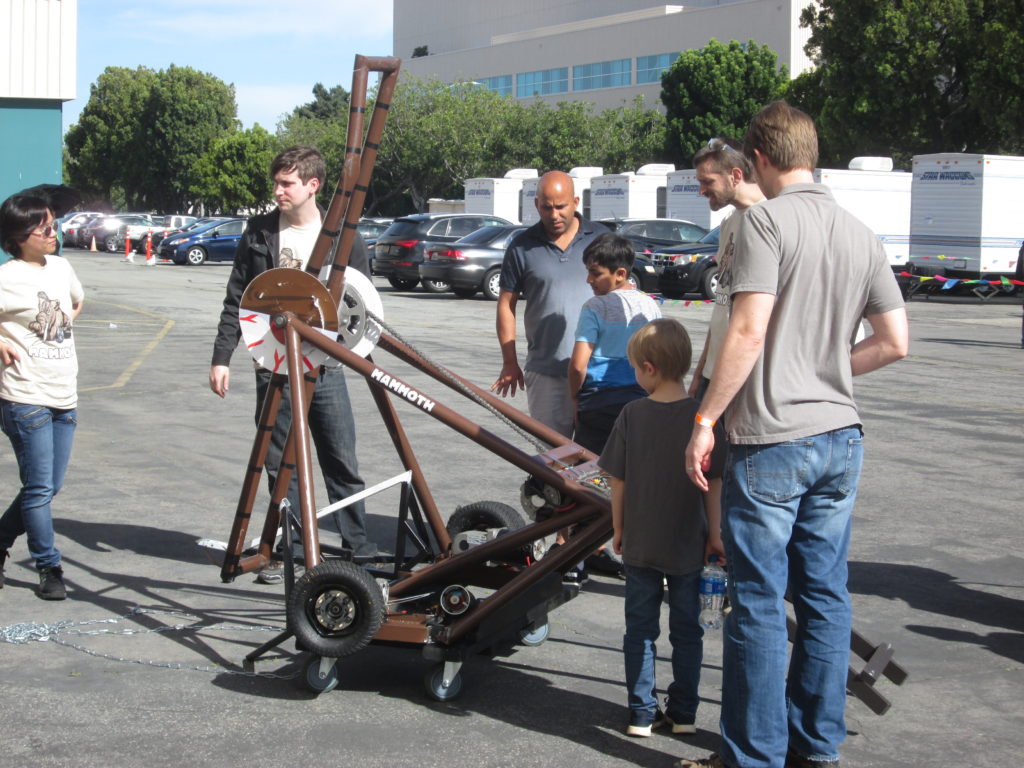 There are VIP packages that were already gone when I went online to sign up. I think there's an all-season pass for all filming. VIP tickets allow you to enter early, and may give access to the pits as well. We saw a group (presumably VIP) at the arena driving area, getting an up-close look after the filming ended. I don't think they would have let us basic people up there.